Tris Vonna-Michell:
No more racing in circles – just pacing within lines of a rectangle box set edition
The audiotape box set No more racing in circles – just pacing within lines of a rectangle is a numbered edition box set containing four audiotapes and liner notes with a text contribution by Jan Verwoert. The audiotapes contain either live performance recordings or performances made in recording studios, often merging spoken narrations, instrumental improvisations and musical compositions. They capture the various approaches to the artist's use of spoken narration as well as documenting the collaborative aspects of performing and sound composition.
Artist: Tris Vonna-Michell
Description: Box set with 4 audiotapes and liner notes
Dimensions: 14,2 x 22,2 x 2 cm
Edition: 100 (numbered)
Publishers: Frans Masereel Centrum and Mount Analogue
Price: EUR 100
2021
No more racing in circles – just pacing within lines of a rectangle box set publication by Tris Vonna-Michell
The box set publication No more racing in circles – just pacing within lines of a rectangle is a reflection on the impact of performing several narrations during a concentrated timespan. It contains 44 sheets printed on a Heidelberg offset press. The accompanying colophon sheet introduces each offset sheet in the box set, which together represent the performative aspect of Vonna-Michell ́s practice in the forms of score and transcription. No more racing in circles – just pacing within lines of a rectangle addresses several time markers in his practice as well as the durational aspect of writing and performing.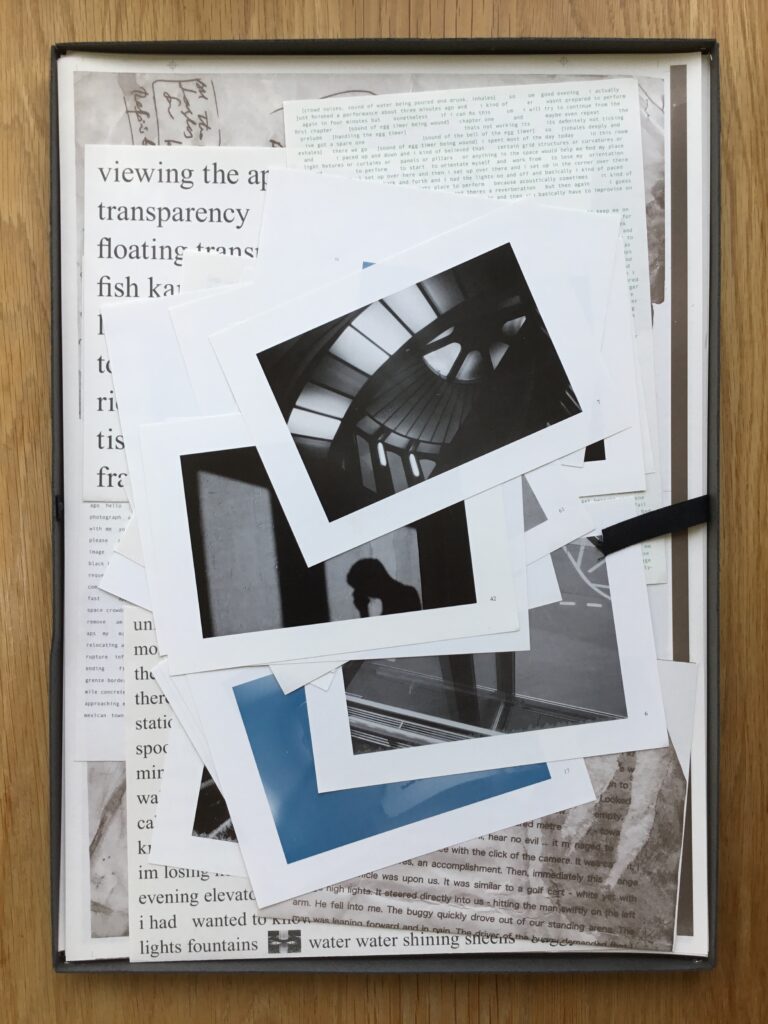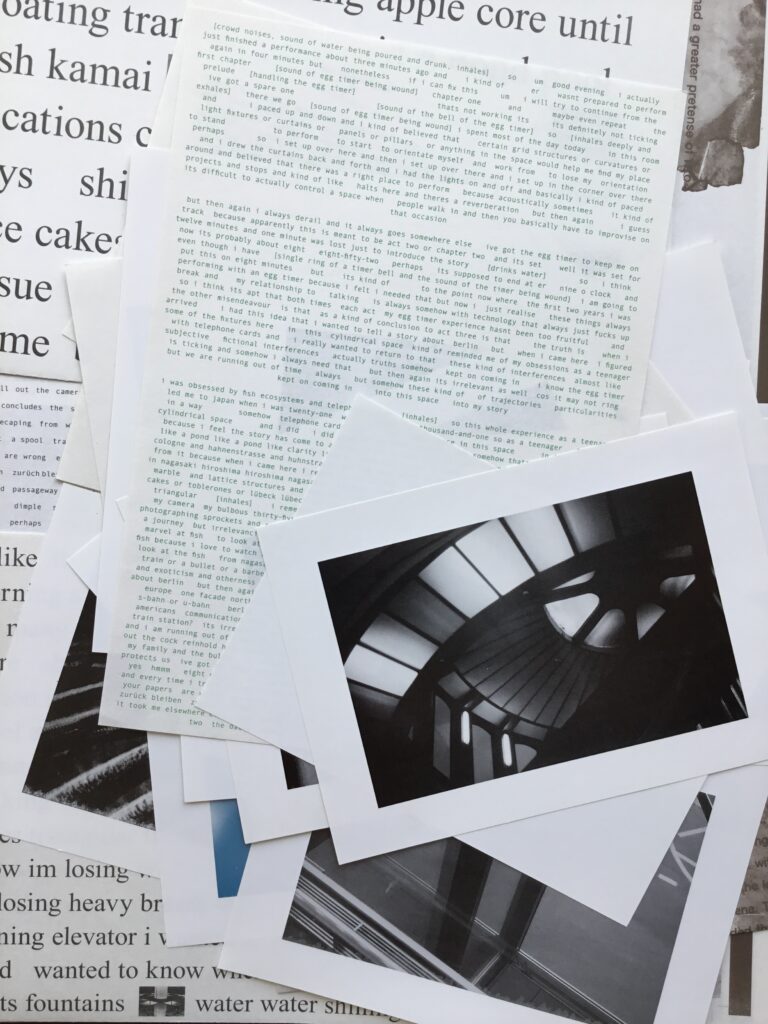 Artist: Tris Vonna-Michell
Publication title: No more racing in circles – just pacing within lines of a rectangle
Edition: 200
Publishers: Bom Dia Boa Tarde Boa Noite, Mount Analogue and Slimvolume
ISBN 978-3-943514-63-6 (Bom Dia Boa Tarde Boa Noite)
ISBN 978-91-983195-0-7 (Mount Analogue)
ISBN 978- 1-910516-04-1 (Slimvolume) Slimvolume #9
2019
Deconceptual Voicings 12 inch record by Marc Matter and Stefan Römer. Cover image: SCREAM (1964) by Ed Ruscha
Featured in the exhibition Broken Music Vol. 2
17.12.2022 to 14.05.2023
Hamburger Bahnhof – Museum für Gegenwart – Berlin
Deconceptual Voicings is a 12-inch record, which uses the extensive archive of interviews with artists of the historical post-minimal and conceptual art as a starting point. It was generated for the documentary film Conceptual Paradise (Stefan Römer, 2006).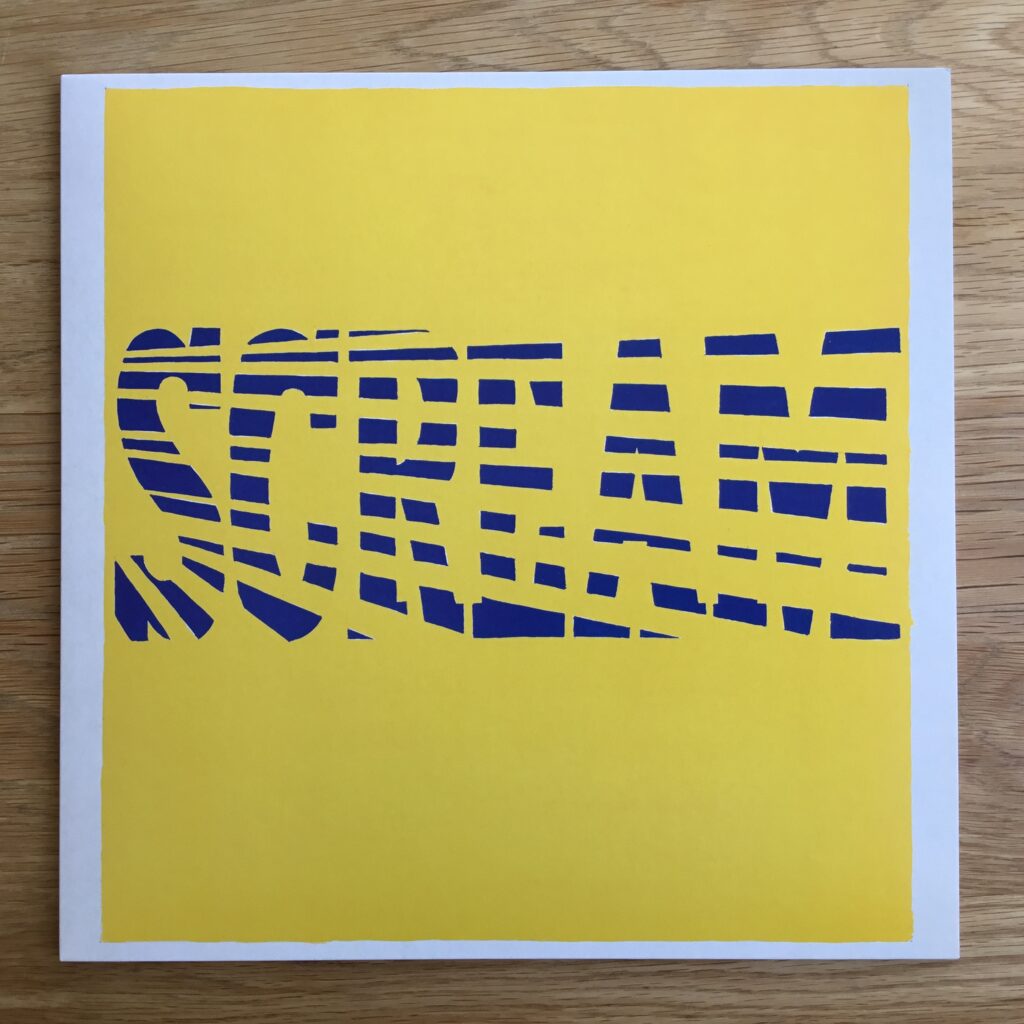 Excerpts from the publication:
Musical compositions from interviews with conceptual artists Deconceptual Voicings consists of individual tracks composed from interviews with artists primarily recorded for the film essay Conceptual Paradise. We selected statements and transformed them into a musical composition, i.e. we turned the audio material (field recordings) into songs. Only speech and language material were used.
Sound fragments, syllables and consonants were processed into rhythmic patterns, while slogans, statements and text passages were sampled into sprechgesang.
We understand global conceptualisms as practices to oppose reactionary backlash. For us, this project marks a critical difference to the tendencies in the digitized commercialization of contemporary art. Our aim is to signify a strategic artistic activity, to challenge recent cultural conditions and to prevent depression. To SCREAM about the contemporary conditions would be an understandable gesture.
Instead, you may perform a neo-emancipatory dance. This is an homage to all the artists involved. By calling it Deconceptual Voicings we suggest a global polyphony of positions and sounds. Good ideas should be amplified.
Excerpts from interviews with the following artists:
Art & Language
Andrea Fraser
Shilpa Gupta
Sol LeWitt
Yvonne Rainer
Martha Rosler
Lawrence Weiner
Ed Rusch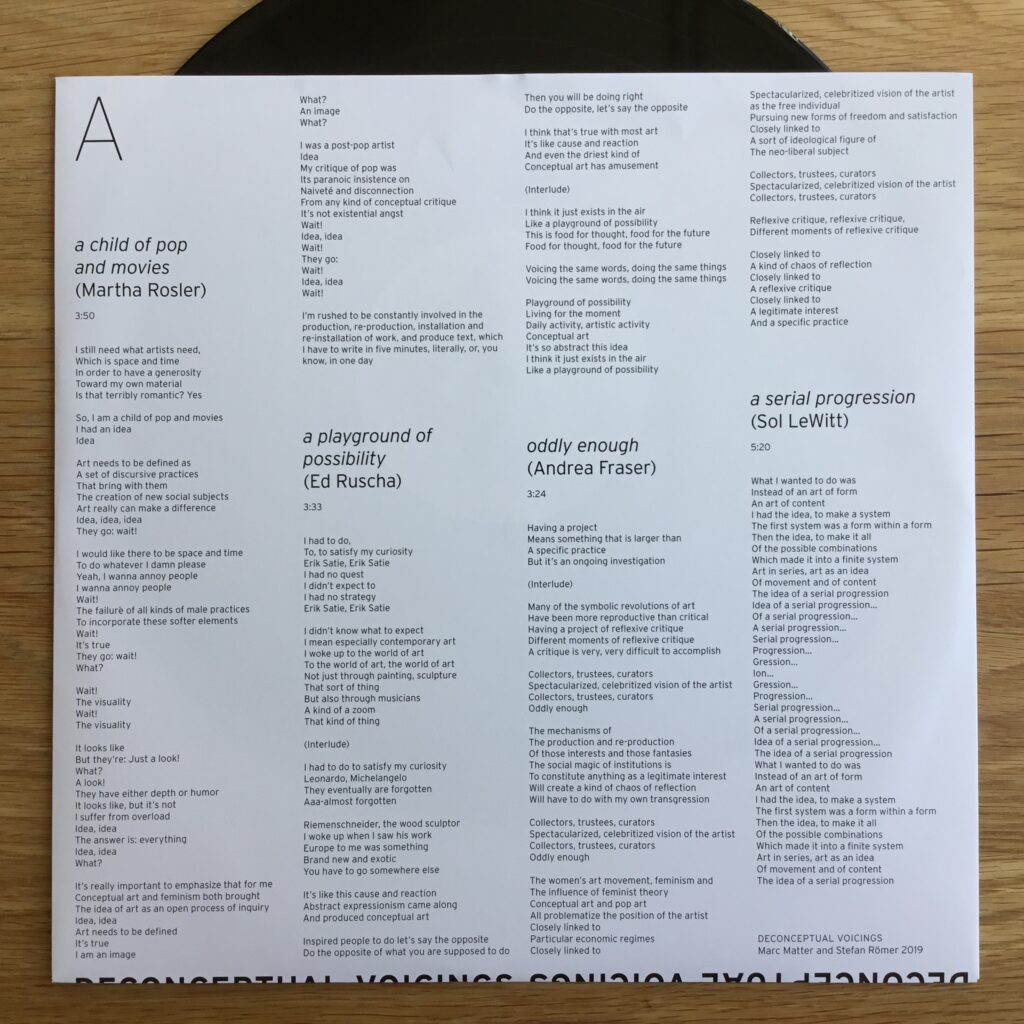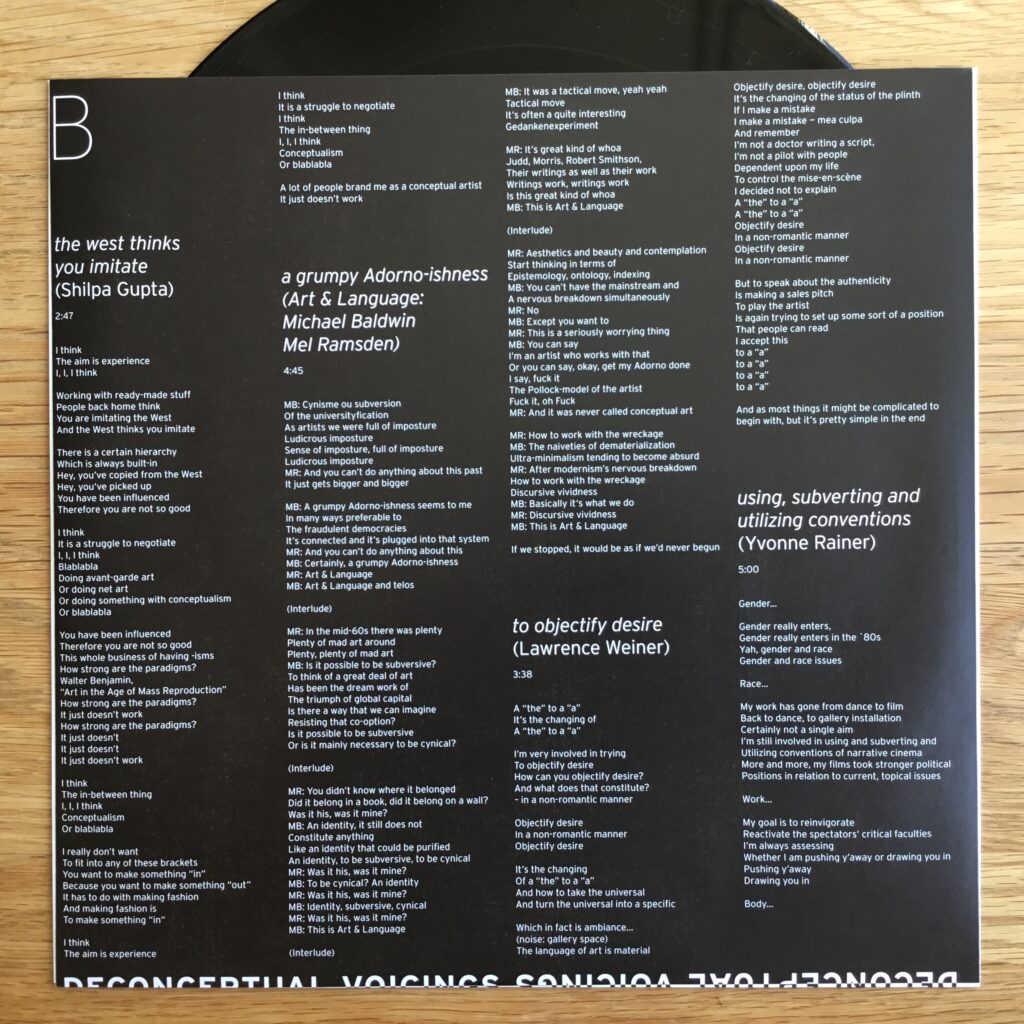 Artists: Marc Matter and Stefan Römer
Publication title: De-conceptual Voicings
Edition: 500
Publishers: Mount Analogue and Slimvolume
ISBN 978-91-983195-7-6 (Mount Analogue)
ISBN 978-1-910516-09-6 (Slimvolume) Slimvolume #10
2019
Music as Seismographic Sound / Tracking Down the Idea of Cultural Translation (radio pitch by Ania Mauruschat)
The publication Music as Seismographic Sound / Tracking Down the Idea of Cultural Translation is a written radio pitch by Ania Mauruschat, closely following musicians in bi- or multi-lingual cultural contexts. Ania Mauruschat is a radio journalist who has produced several features on sound art, with the German radio station Bayerischer Rundfunk, and the Swiss national radio station SRF. The written pitch comes in the form of an appendix of source materials, including excerpts from interviews with selected musicians.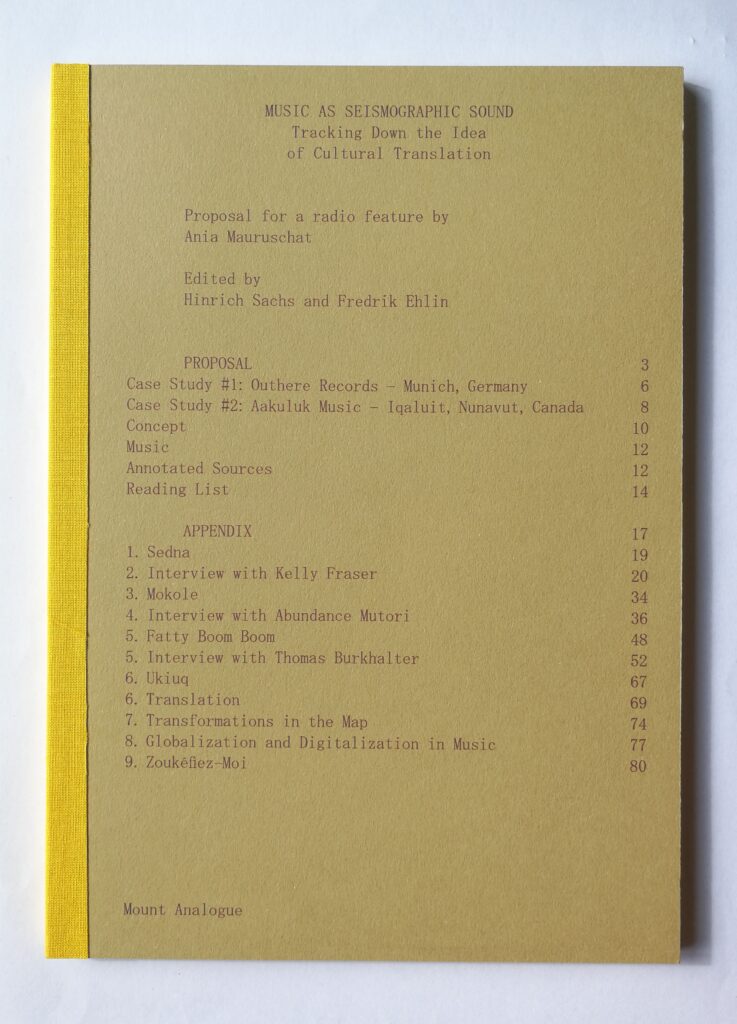 Excerpts from the publication:
Music is the fastest traveling medium. As some scholars like to argue,
it even might have a seismographic potential. [1] Thus, the Swiss
ethnomusicologist Thomas Burkhalter speaks of "seismographic sounds"
[2] regarding the rather new phenomenon of global digital 'world music
2.0' [3]. This musical phenomenon developed predominantly in the urban
centres of the 'Global South'—São Paulo, La Paz, Lagos, Cape Town,
Jakarta, Beirut or Manila—, long before it drew the attention of
journalists and researchers from the 'Global North' in the early
2000s.

…
To scrutinize and better understand this situation of in-betweenness,
the radio feature will focus exemplary on two very distinct and yet
similar case studies of seismographic sound generating hubs: firstly,
the label Outhere Records, which is based in Munich, Germany and
serves as a platform especially for the young Pan-African scene of
world music 2.0; and secondly, the label Aakuluk Music in Iqaluit,
Nunavut, the northernmost territory of Canada, which is devoted to
developing the young musical scene in the Arctic to facilitate the
search for identity and independence of the Inuit musicians in their
postcolonial reality of community building.
Publication title: Music as Seismographic Sound / Tracking Down the
Idea of Cultural Translation
(radio pitch by Ania Mauruschat)
Edited: Hinrich Sachs and Fredrik Ehlin
Edition: 500
Publishers: Mount Analogue and Humboldt Books
ISBN 978-91-983195-5-2 (Mount Analogue)
ISBN 978-88-99385-45-3 (Humboldt Books)
2018
Inte det molnet | Not That Cloud by Johanna Gustafsson Fürst 
Release on Saturday 17 March, 2018
5 – 8 pm at Mount Analogue, Lundagatan 57, Stockholm
Readings starting at 6 pm
Inte det molnet | Not That Cloud is a collaboration between the artist Johanna Gustafsson Fürst, the editors and publisher Mount Analogue, Jonas Williamsson who has designed the publication and six contributors who give their perspective on works by Gustafsson Fürst in text. These are: Eva Arnqvist (artist), Karl Lydén (art critic and a PhD candidate in Philosophy at Södertörn University), Eva Löfdahl (artist), Marti Manen (curator and writer), Liv Strand (artist) and Lisa Torell (artist, she holds a PhD from The Norwegian Program for Artistic Research at UiT).
Johanna Gustafsson Fürst is a Swedish artist. She is a senior lecturer in Fine Art at Konstfack in Stockholm and is working on a public art project commissioned by Public Art Agency Sweden. She is represented by Belenius Gallery. In 2017 she received The Friends of Moderna Museet Sculpture Award.
Contributors:
Eva Arnqvist is an artist whose work examines issues related to the construction of place, society and knowledge. For several years she has been engagade in the redevelopment of Slakthusområdet, the meat-packing district in Stockholm.
Karl Lydén is an art critic and Swedish translator of Michel Foucault's Society Must Be Defended and The Government of Self and Others (Tankekraft 2008/14). He is a PhD candidate in Philosophy at Södertörn University.
Eva Löfdahl is an artist. Löfdahl was Sweden's representative in the Venice Biennale 1995. Curator Ann-Sofi Noring writes in connection with Löfdahls solo exhibition at Moderna Museet 2011, that her work "has an inevitable ability to express the enigmatic of the permanent work".
Marti Manen is a curator and art writer. He has published books like When Lines Are Time (2017), Salir de la exposición (To leave the exhibition) (2012) and Contarlo todo sin saber cómo (Telling Everything Not Knowing How) (2012).
Liv Strand is an artist, working with processes that shape understanding. For her art is a practice in which physical materials can be used to consider certain situations, for instance how central the nation state is in our minds. Lisa Torell is an artist and holds a PhD from The Norwegian Program for Artistic Research/at UiT, Tromsø (2014–17). She explores questions related to the public sphere through performance, installations and texts.
Jonas Williamsson is a graphic designer working in the field of culture. Often with a strategy of using what is at stake outside of its expression, Williamsson's design could be understood as a design for its non-expression.
Johanna Gustafsson Fürst Inte det molnet | Not That Cloud
Editors Johanna Gustafsson Fürst, Diana Kaur
Graphic Design Jonas Williamsson
Photography Lars Arned (3, 9, 10, 21, 27, 28, 40, 52, 53, 56, 61, 62, 68, 73, 74, 80)
Johanna Gustafsson Fürst (15), Jonas Lindström (48), Lotten Pålsson (16), Terje Östling (33, 34, 39, 47)
Repro, retouching Erik Betshammar
Language English and Swedish
Translation Linda McAllister
Proofreading, copy editing Anna Nyström, Frida Sandström (Swedish), Diana Kaur, Liam Sprod, Tris Vonna-Michell (English) Typeface Tratex (K-G Gustafsson), Textra (J Williamsson)
Printing Narayana Press, Danmark 2017
Edition 400
Publisher Mount Analogue, Stockholm
ISBN 978-91-983195-3-8
© Copyright Johanna Gustafsson Fürst, the writers and Mount Analogue 2017
All rights reserved.
This publication was partly initiated by a contribution connected to the Stockholm City Studio Grant. It was produced with support from the Swedish Arts and Grants Committee and the Längmanska Culture fond.
Participant Observers by Henrik Andersson
Release on Saturday 23 November, 2019
6 – 8 pm at Mount Analogue, Lundagatan 57, Stockholm
An evening of projections and conversations circling around Henrik Andersson's Participant Observers book.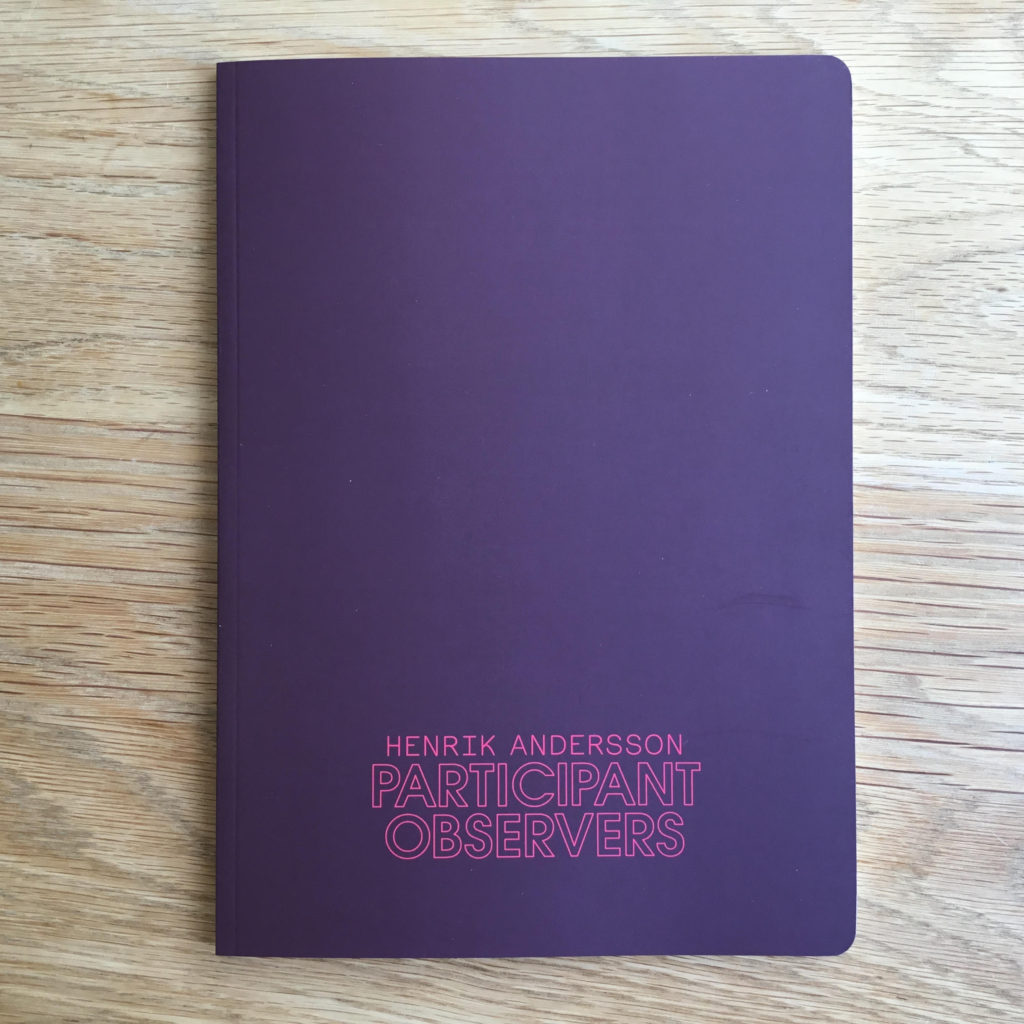 Henrik Andersson´s monograph publication Participant Observers developed out of a solo exhibition he made at Marabouparken konsthall. The show and this subsequent publication addresses the presence and history of the Swedish defense science facilities, which closed in 2005.
A wooded area the size of a small nature reserve south of Järvafältet in northern Sundbyberg, Ursvik, was until recently the location of the Swedish Defence Research Agency (FOI). From 1930 onwards, a branch line of the Northern Main Line carried shipments of ammunition into a large rock shelter. The area contained shooting ranges, administration offices and depots, and, most importantly, high level research was conducted there. The research included everything from the development of Swedish nuclear weapons to medical research into surgical methods of treating crush injuries. The activities were top secret and what really went on behind the fence remains shrouded in mystery.
In the early 1960s, public support for the Swedish nuclear programme waned and in 1961 the first protest march against the atomic bomb in Sweden went to Ursvik. Pictures from the march are preserved in the Museum of Sundbyberg. The Swedish Defence premises in Ursvik also housed something else, an art collection, which was primarily acquired by the Public Art Agency Sweden. An art collection at a secret location – what was it doing there?
Henrik Andersson Participant Observers
Edition 400
Published by Mount Analogue, Stockholm and Marabouparken Konsthall
ISBN 978-91-983195-4-5
© Copyright Henrik Andersson, Mount Analogue and Marabouparken Konsthall, 2018
All rights reserved.
This publication was produced with support from Stiftelsen Längmanska kulturfonden.
Untitled (Triple Gretsch with Kick) by Dave Allen
Release on Wednesday 20 April, 2016
5 – 8 pm at Mount Analogue, Lundagatan 57, Stockholm
Accompanied by site specific installation
Untitled (Triple Gretsch with Kick) is a series of prints of drums from images sourced from online auction sites. Stacked in attics or laid out on sofas these kits are clearly not in use anymore, and arranged as such they are soundly redundant. There is much at play here. Rastered in monochrome the kits become monumental and sculptural. Unwanted and now for sale they stand as a proud reminder of the ideals and chosen methods of youth's rebellious role in proposing change and progression.
I always feel sad when I see pieces of musical equipment for sale, especially drum kits cos drummers generally have only one kit. So when I see a kit for sale it's sort of signifying the end of someone's musical aspirations and all that that entails. The end of the ideals that were once held and expressed in collaboration with others who thought likewise in the camaraderie of the isolated practise room. Plus, the images are often taken at the door of the apartment in a very sculptural arrangement, stacked proud on their way out. If the kit has to go to make space for whatever then I like to think that the 2D full size representation of the kit can be slipped into the home interior decor plan somehow as a reminder of progressive ideals encased in rock and roll.

Dave Allen lives and works in Stockholm

"Untitled (Triple Gretsch with Kick)", 2016
12 sheets risograph printed in blue on Cyclus Ecoset 115 gsm paper
Composite image, 990 mm x 1088 mm
Edition of 50 (+5 AP)
Printed by Risiko Press, Antwerp
Supported by Elastic Gallery, Stockholm
ISBN 978-91-983195-2-1
75 EUR

Boxed In, Eight Corners by Pol Matthé 
Release on Wednesday 20 April, 2016
5 – 8 pm at Mount Analogue, Lundagatan 57, Stockholm
Accompanied by site specific installation
Pol Matthé's multiple Boxed In, Eight Corners is related to his installation A Lag, A Stretch, A Triangle. The installation consists of two Liesegang overhead projectors connected by a plank of wood. An odd number of balls can be rolled from one octagonal frame to the other, and are projected on the ceiling of the exhibition space.
The multiple relates to elements of the actual installation. An octagonal shape, two parts becoming one piece, a ball and handle cut-out, an inside out. The ripped image shows the Danish artist Asger Jorn in front of the Silkeborg Museum holding a scrap wooden panel with the word 'malet' painted in white, which in Danish means 'painted'. The panel includes a handle which is cut out. The image is ripped in two, shifted in order to fit the cut-outs of the lid, and glued to the bottom of box, generating an unknown 'in between'. In response to the works Sis Matthé has written a text, which is available here.
Pol Matthé is a Belgian artist based in Stockholm. He graduated from the Royal Academy of Fine Arts Antwerp in 2005. Matthé collects and works with notes, found objects, sketches and photographs. By meticulously layering these archives and their encounters, he constructs situation-specific works.
"Boxed In, Eight Corners", 2016
Octagonal grey cardboard box with lasercut lid, glued and ripped b&w digital print
Printed on Munken Polar 170 gsm, stamped black ink, 187 x 187 x 27 mm
Edition of 50 (+5 AP)
Produced in Stockholm in collaboration with Z Forlag
ISBN 978-91-983195-1-4
75 EUR
Collapsing Ourselves by Mattin and Hong-Kai Wang
Release of twelve-inch vinyl record by Mattin and Hong-Kai Wang
11 December 2014, performative presentation by the artists at 7 pm
At Mount Analogue, Lundagatan 57, Stockholm
When artists collaborate, they collapse themselves – or that would be the promise, at least. They see their practice reflected in someone else's and they try to pass through the mirror. What Hong-Kai Wang and Mattin have attempted in this record, and these recordings, is to reflect on that process of reflection and to explore the possibilities of collapse.
Since December 2012, Hong-Kai and Mattin have been developing a dialogue focused on the material conditions in which they find themselves embedded as artists, using oral conversation as a formal expression. They started with a private one-hour conversation about their respective practices, which they recorded. Then in a sequence of live performances they incrementally layered their original conversation with more dialogues, all of which were duly recorded in turn, including the contributions (witting or otherwise) of their live audience. In the performances, both of them would listen to the previously recorded conversations on headphones, whilst simultaneously addressing the audience and each other in a sparse, ambiguously dialogic manner. The final result, which is not at all final, is a recording consisting of the four layers (temporalities) of conversations superimposed.
– Above excerpt from liner text by Mike Sperlinger
Mattin is an artist from Bilbao (currently living in Stockholm) working with noise and improvisation. His work seeks to address the social and economic structures of experimental sonic artistic production through live performance, recordings and writing. Using a conceptual approach, he aims to question the nature and parameters of improvisation, specifically the relationship between the idea of "freedom"and constant innovation that it traditionally implies, and the established conventions of improvisation as a genre. Mattin considers improvisation not only as an interaction between performers and instruments, but as a situation involving all the elements that constitute a concert situation, including the audience and the social and architectural space. He tries to expose the stereotypical relation between active performer and passive audience, producing a sense of strangeness and alienation that disturbs this relationship. He is currently doing a PhD at the University of the Basque Country under the supervision of Ray Brassier and Josu Rekalde. He has edited with Anthony Iles the book Noise & Capitalism and in 2012 CAC Brétigny and Tuamaturgia published Uconsitituted Praxis, a book collecting Mattin´s writing plus interviews and reviews from performances that he has been part of. Both books are available online.
Born in Huwei, Taiwan, Hong-Kai Wang works and lives between Vienna and Taipei. She is currently a PhD in Practice candidate and part of the Spaces of Commoning research team at the Academy of Fine Arts in Vienna. Her works are concerned with the questions of geo-politics and invisible social organization within listening and construction of cultural memory, focused on a collaborative and process-driven approach to research and production. Wang has presented her works at Liquid Architecture (Melbourne/Sydney, 2014), Kunsthall Trondheim (Trondheim, Norway, 2013), Para Site (Hong Kong, 2013), Museum of Modern Art (New York, 2013), among others. Her work spans performance, workshop, text, video and installation. 
Collapsing Ourselves was written in Stockholm, on 28 March 2013 at EMS; and 30 March at KONSTAPOTEKET; in Z Space Taichung on 16 May 2013; and then at Noise Kitchen in Taipei on 18 May 2013. All the recordings were made on a ZOOM H4.
Collapsing Ourselves is published and distributed by Mount Analogue and Audio Visual Arts (AVA), 2014
15 EUR
Thanks to: EMS, KONSTAPOTEKET, White Fungus, Lacking Sound Festival and Mike Sperlinger 
Port an exhibition by Elisabeth Kihlström and Yuki Higashino
Open by appointment 13 November – 11 December 2014
Closing event on 11 December to coincide with the completion of the artists' publication Travelling Light
At 5-8 pm at Mount Analogue, Lundagatan 57, Stockholm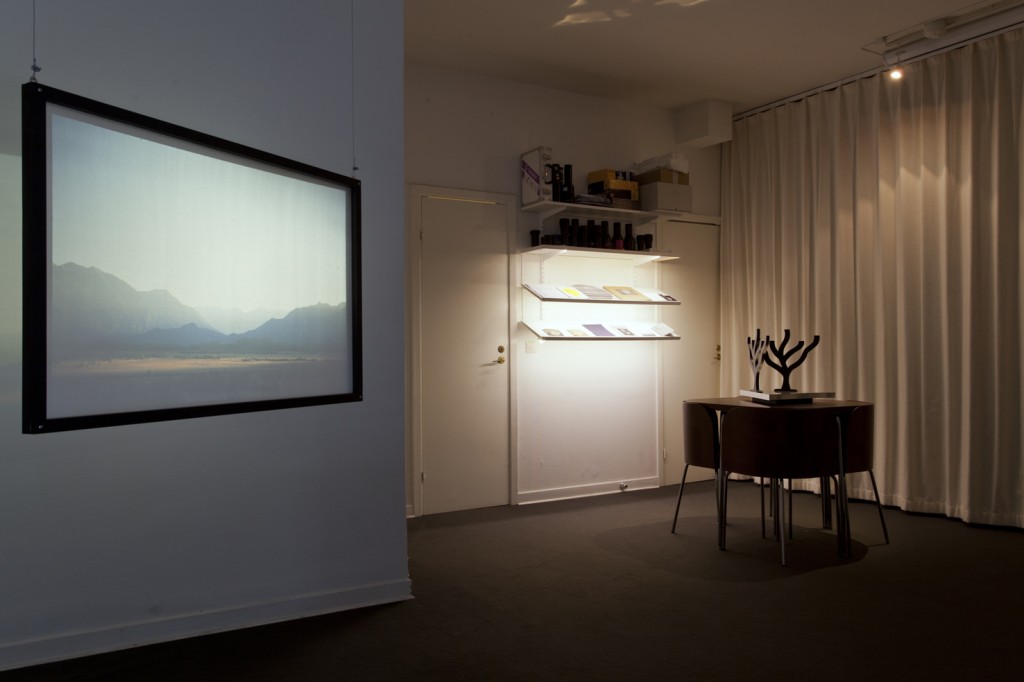 Works featured above: A Celebration of Love and Life (Sunset), 2013, slide projection, silk and wood screen, Electro-Faustus EF102 Photo Theremin and The Host, 2014, stainless steel and wood table sculpture (the wood element designed by Leif Kihlström).
Artists move around. In the past, they went to beautiful places, usually in the south, to be inspired, joined artists' colonies or ran away from creditors. Today, we do residencies, teach in foreign cities, get funding to go on research trips or fly in to oversee installations. We've been making works about the history of artists' movements, while thinking about our own travels for the production and presentation of works in this show:
Vienna
Naturhistorisches Museum
Café Prückel
Café Bräunerhof
Bibliothek, Universität für angewandte Kunst
Bibliothek, Akademie der bildenden Künste
Murnau am Staffelsee
Ähndl
Griesbräu zu Murnau
Haus am Gries
Scholßmuseum
Murnauer Burg
Gabriele Münter-Haus
Murnauer Moos
Der Königsweg
Staffelsee
Riegsee
Kochel am See
Franz Marc Museum
Munich
Neue Pinakothek
Frankfurt
Platform sarai
Paris
Dominique saibron
Musée des Arts Décoratifs
Musée d'Art Moderne de la Ville de Paris
Musée du quai Branly
Silencio
Bois de Vincennes
Palais de la Porte Dorée
Muséum national d'Histoire naturelle
Grande Mosquée de Paris
Malmö
Skånes konstförening
Martins Konditori och Café
Innsbruck
Neue Galerie, Tiroler Künstlerschaft
Gasthof Weisses Rössl
Das Tirol Panorama
Stockholm
Moderna Museet
Thielska Galleriet
Mount Analogue
The publication Travelling Light sums up two years of joint work and journey by the artists Elisabeth Kihlström and Yuki Higashino. It was produced during their collaborative exhibition Port at Mount Analogue and will be presented on 11 December 2014, to mark the closing of the exhibition.
Elisabeth Kihlström and Yuki Higashino are artists based in Vienna. They have collaborated on two person shows Daybreak at Platform sarai, Frankfurt (2013) and Territories at Skånes konstförening, Malmö (2014) as well as curatorial project To take a landscape from at Neue Galerie, Innsbruck (2014). They have also been recording and holding concerts as Every Sunday since 2012.
Travelling Light by Elisabeth Kihlström and Yuki Higashino
Produced by Mount Analogue and Post Chimney
Hand-bound book with silkscreen, stamp, C-print and laser print
Edition of 50
Price: 450 SEK / 50 EUR
Capitol Complex / Ulterior Vistas by Tris Vonna-Michell
Publication release accompanied by a film installation and DJ-set by Tris Vonna-Michell and Martin Konie Ehrencrona
21 August 2014, 6-10 pm
At Riche/Lilla Baren, Birger Jarlsgatan 4, Stockholm
Tris Vonna-Michell´s latest publication is constructed around the two works, Capitol Complex (2012-2014) and Ulterior Vistas (2012-2013), both of which are encapsulated on a ten-inch vinyl record. The spoken-word compositions are enclosed within a gatefold design and accompanied by the Capitol Complex manuscript as a booklet insert and a bound series of Ulterior Vistas photographic montages.

The Capitol Complex (Side A) recording pans between improvised spoken word and musical composition, evolving around a manuscript set in the Indian city of Chandigarh, which serves as an underlining blueprint for the work. Traveller, the protagonist, extends his leisurely strolls to navigating the city by night in order to induce an experience of greater intensity and anxiety of its urban architecture. After his nocturnal explorations in the city's single-zone sectors he starts to grow weary and changes his course from architectural appreciation to searching for crevices and enclosures to reflect and observe. But urban fixtures of obstruction, surveillance and derailment direct his passages, until a shift in perception occurs.
The spoken word aspect of Ulterior Vistas (Side B) is backed by a musical score, and contextualised around the notion of a driven sales agent, orating a prospectus based on grand 18th Century English landscape garden design. The protagonist is soliciting a global perspective characterised by appropriation of cultural heritage in order to cultivate a desirable public persona for an unidentified client. Aside from offering an array of landscape gardening solutions and attributes he also proposes more abstract features such as synthetic spirituality and symbolic gestures of generosity. The conceptual framework for the Ulterior Vistas photographic series derives from the English landscape architect Humphrey Repton´s (1752-1818) famous Red Books. His books were bespoke landscape and architecture propositions for improving the estates and pleasure grounds of potential clients. The before-and-after illustrations were a key feature in Repton´s Red Books as were his verbal presentations.
Content and concept by Tris Vonna-Michell
Edited by Diana Kaur
Recorded by Martin Ehrencrona at Studio Cobra, Stockholm
Spoken word by Tris Vonna-Michell
Instruments by Martin Ehrencrona and Markus Lindmark
Mixdown by Martin Ehrencrona and Tris Vonna-Michell
Copy editing by Andrew Hunt and Sophie Sleigh-Johnson
Designed by Konst & Teknik, assisted by Caroline Settergren
Image correction by Lena Hoxter
Printing and binding by Göteborgstryckeriet, Sweden
Published by Focal Point Gallery and Mount Analogue, 2013
Distributed by Cornerhouse
ISBN 978-1-907185-14-4
30 EUR
Band 2: Sunday by Robin Watkins
13 December 2012, 7 pm
At Mount Analogue, Lundagatan 57, Stockholm
Robin Watkins will stage a 24-minute sound screening between 20:00 and 20:24
A new edition by Robin Watkins, consisting of a hand-numbered letterpress cover, a compact disc and a 32-page booklet, published by Mount Analogue. The edition documents naturally occurring low frequency electromagnetic fields alongside man-made currents. The recordings were made in and around the derelict Cockatoo Island power plant, during night and dawn of 29 January 2012.
Seven slides
Seven takes
Seven windows
Seven dawns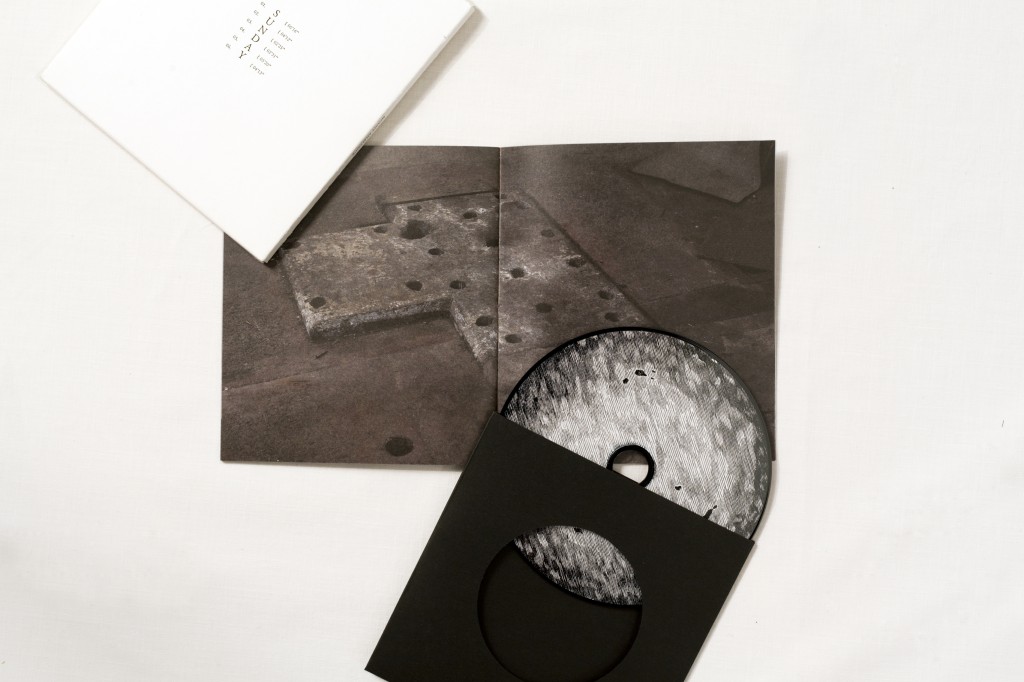 The recordings were originally made for a site- specific installation in the powerplant on Cockatoo Island, Sydney Harbour (Australia), as part of the 18th Biennale of Sydney. Thanks to Nina Canell, Diana Kaur, Tris Vonna-Michell, Travis Rice and Catherine de Zegher.
Audio selections arranged by Robin Watkins
Mastering by Martin Ehrencrona
All photographs taken on site by Robin Watkins
Printed parts and layout by Robin Watkins
Published and distributed by Mount Analogue, Stockholm, 2012
ISBN 978-91-633-8522-3
25 EUR
Tris Vonna-Michell by Tris Vonna-Michell
15 February 2012, 7 pm
At Mount Analogue, Lundagatan 57, Stockholm
For the occasion the book will be displayed in an expanded form
Mount Analogue presents a recently completed book project (2009-2012) by Tris Vonna-Michell in which the stories and the visual material marks a continuation and implementation of his artistic practice through the medium of an artist's book. Behind an identical cover, the seemingly same is presented in two variations that were developed through performative improvisations over earlier text versions, and repositioning of images and inserts.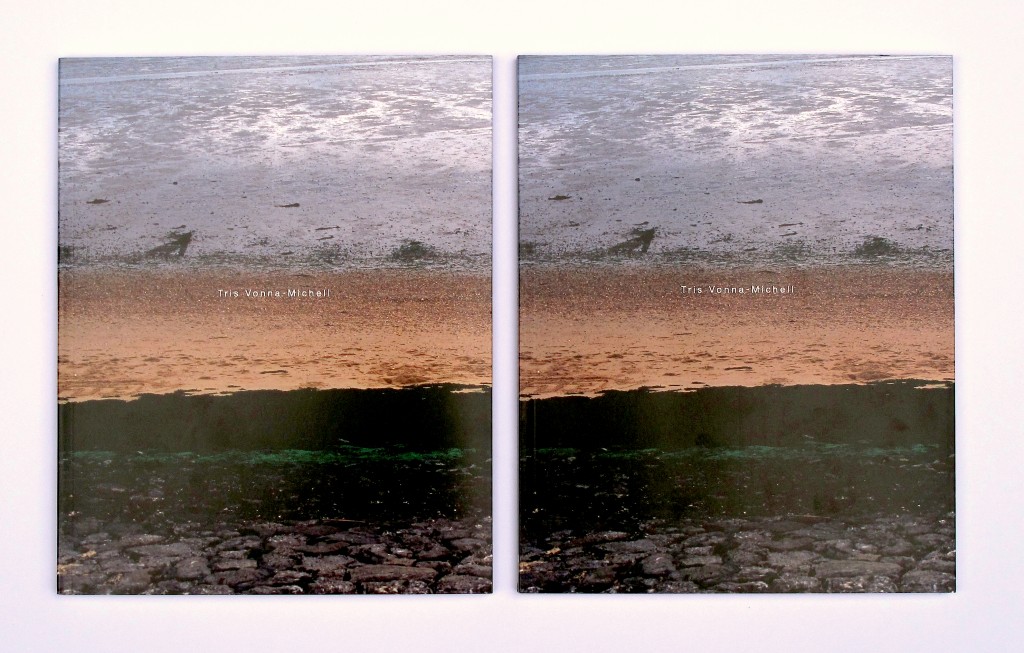 The two variations were pendently constructed; book I began in November 2009 at Halle für Kunst in Lüneburg, in which several chapters, texts and images were printed on a Heidelberg GTO printing press on a daily basis during the exhibition "Capstans". In 2010 book II began as a revisitation and expansion of the first variation, in which the previous narratives, images and inserts were reconstructed.
Text and images by Tris Vonna-Michell
Graphic design by Manuel Raeder with Tris Vonna-Michell
Published by JRP|Ringier, together with with Fondazione Galleria Civica—Centro di Ricerca sulla Contemporaneità di Trento, GAMeC—Galleria d'Arte Moderna e Contemporanea di Bergamo, Halle für Kunst Lüneburg e.V., and Kunsthalle Zürich, 2011
Printed in Germany
ISBN 978-3-03764-170-5
35 EUR
This publication was supported as Catalogue No. 117 by the Alfried Krupp von Bohlen und Halbach-Stiftung under its support prize "Catalogues for Young Artists".
ak28 revisited and three parallell visions edited by Diana Kaur
27 May 2011, 7 pm
At Mount Analogue, Lundagatan 57, Stockholm
Presentations, projections and complimentary copies of the book
ak28 was a self-organised, primarily self-funded, collective of artists, architects and curators, which ran a space for exhibiting artistic practices in Stockholm between 2003 – 2009. This book combines the legacy of ak28 with the presentation of three individual artistic stances derived from varying collaborative experiences. These initiatives operate in the same non-profit sphere as ak28, but on different, or rather parallel premises. These are Elysa Lozano for Autonomous Organization, based in New York, John W. Fail from Ptarmigan Helsinki/Tallin and Ola Ståhl, from what was a loosely London-based artist collective, C.CRED.

Edited by Diana Kaur
Texts by John W. Fail, Johanna Gustafsson Fürst, Elysa Lozano, Ola Ståhl and Erik Torvén
Graphic design by Christopher West
Published and distributed by Mount Analogue, 2011
Printed at Exaktaprinting Malmö AB, Malmö, Sweden
ISBN 978–91–633–8523–0
6 EUR
Diagram for the New Art World Economy
By Elysa Lozano for Autonomous Organization, 2010
Printed on the occasion of the release of ak28 and three parallel visions
ak28 revisited and three parallel visions was supported by Stiftelsen Längmanska kulturfonden and ak28.